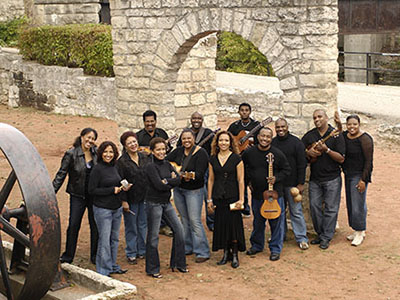 Los Pájaros, a Brampton, Ontario-based parang group, was formed in 1994 from a village family of Morne Diablo who emigrated to Canada from Trinidad. Along with Glen Cassar, a prominent "parrandero" from Sangre Grande, the Partap and Mohan familes were able to crystallize their music style, developed through a long history of involvement in parang and through family ties to renowned Trinidadian parang artists, in particular Daisy Voisin and Sylvestre Mata.
We relate mostly to traditional parang, but acknowledge the influence that soca music has had to create the popular "soca parang" fusion—a style also included in our repertoire. From the start, we have been a crowd favourite on the Toronto, New York, Ottawa, Miami, and Atlanta parang scene, and have delighted our fans with a mix of traditional and upbeat music.
Our mission is to promote traditional parang music in North America. Apart from the typical parang shows, we have appeared in concerts and summer folk festivals in Ontario, bringing parang to a wider international audience. Our style remains true to the original rustic art form but with our own musical signature.
Check the Events page to find out if Los Pájaros are performing near you!
Click here to read more about Los Pajaros in WE Magazine!